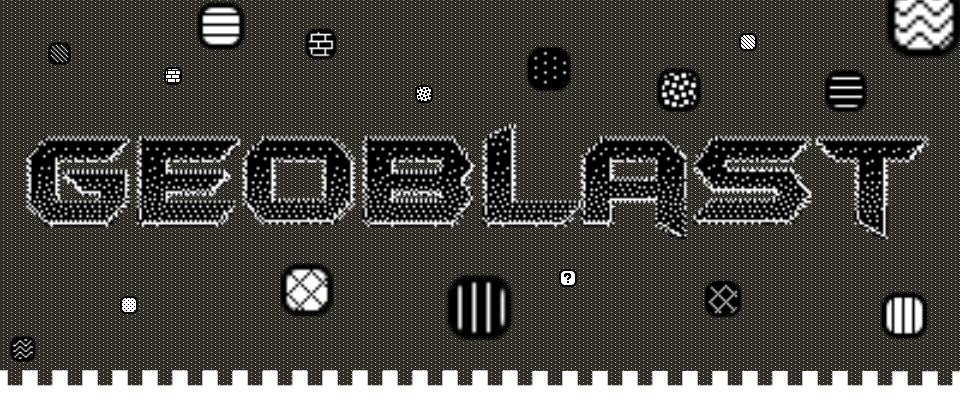 Geoblast (Playdate)
A downloadable Playdate game
Geoblast is an arcade puzzle tile-matching game, inspired by games such as Dynomite, Puzzle Bobble/Bust-a-Move and Magical Drop, exclusive to Playdate.
-- FEATURES --
| | | |
| --- | --- | --- |
| 5 Game Slots | 5 New Gamemodes to explore | 20 New Missions to complete |
| Highscore Saved Data | 5 Stars to complete for each Gamemode | and more! |
-- MODES --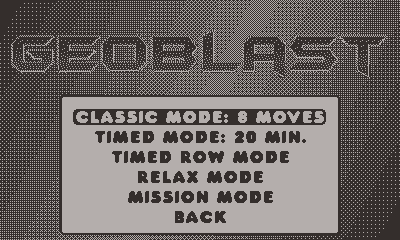 Classic Mode: Simple mind game and strategic use of moves remaining. If the number of moves reaches 0, it adds a new row and refreshes the number of moves.
Timed Mode: Race against the timer! Get a new highscore before time runs out!

Timed Row Mode: Everytime the timer ends, it adds a new row and resets the timer. However, the resetting also removes 1 second from the maximum time. Be careful!

Relax Mode: No time limit, no need to play strategically: you can take all the time you need! The only way to lose is when a tile reaches below the line.

Mission Mode: Complete all 20 Missions, where each one has an objective to reach, from a "simple to solve" Puzzle Mission to a "all tiles are '?'" Hidden Mission!

-- CONTROLS --
INPUT
DESCRIPTION
D-Pad
- Change Selected Menu Item (Up and Down);
- Change Number of Moves/Timer/Mission (Left and Right);
- Move Player (Left and Right).
'A'
- Confirm Selected Menu Item;
- Grab/Throw Tile.

'B'
- Go Back to Main Menu/Game Slot Screen;
- Delete Saved Data Selected (at least 4 small clicks and 1 "hold 1 second" click).
Crank
- Change Selected Menu Item;
- Add Row to the game;
- Restart game (Puzzle-only gamemode).
-- KNOWN BUGS --
If you find a problem or a bug, please leave a comment!
-- CREDITS --
Used Noble Engine: https://github.com/NobleRobot/NobleEngine
Kenney.nl Assets:
- --/ SFX \-- -
- https://www.kenney.nl/assets/voiceover-pack
- https://www.kenney.nl/assets/interface-sounds
Gamemaker Free Bundles:
- --/ MUSIC \-- -
- Bundle #1 - Fantasy Side-Scrolling Platformer
- Bundle #4 - Music Tracks 1

- Bundle #9 - Music Tracks 2
Title:
- --/ GRAPHICS \-- -
Purchase
In order to download this Playdate game you must purchase it at or above the minimum price of 3.00€ EUR. You will get access to the following files:
Download demo