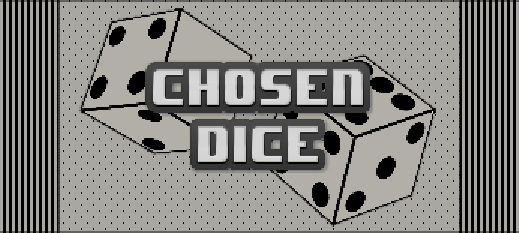 ChosenDice (Playdate)
A downloadable Tile-Matching Game
What happens if you combine a Tile-Matching Puzzle game genre with the idea of rerolling Dice? Yep, you guessed it! You get the Chosen Dice!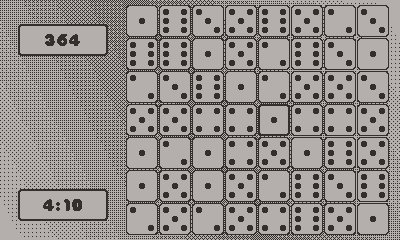 - Select a single Die to change their value. -
- Make a 3 or more match! -
- Reroll all the Dice with the use of the Crank! -
- Score as many points as possible within 5 minutes! -
CONTROLS:
Move the Grid (only when not selected): Use D-Pad
Select Die: Press 'A'
Change Die Value When Selected: Use D-Pad
Undo Selected Grid: Press 'B' or Press 'A' again
Reroll all Dice: Use Crank
PATCH NOTES:
Version 1.0.0 (Aug 2nd 2022):

Released FREE version to the public.

Version 1.0.1 (Aug 2nd 2022):

Fixed usage of the word "Dices" to "Dice".

Version 1.0.2 (Aug 4th 2022):

Revamped the matching algorithm to be more efficient in detecting multiple rows & columns;
Adjustments in launch card image.

Version 1.1.0 (Sep 5th 2022)

New version released to the public: Paid version, in which it has a new Debug Menu in order to change options such as Timer, Scoring System and Dots of all Die.
KNOWN BUGS:
If you find a problem or a bug, please leave a comment!
CREDITS:
Used Noble Engine as a Playdate game engine: https://github.com/NobleRobot/NobleEngine
Kenney.nl Assets:
- --/ SFX \-- -
- https://www.kenney.nl/assets/casino-audio
- https://www.kenney.nl/assets/interface-sounds
- https://www.kenney.nl/assets/music-jingles
Gamemaker Free Bundles:
- --/ MUSIC \-- -
- Bundle #4 - Music Tracks
Title:
- --/ GRAPHICS \-- -
- http://clipart-library.com/clipart/dice-clipart-2.htm
Download
Click download now to get access to the following files:
NewChosenDice.pdx.zip
7 MB
if you pay 1.00€ EUR or more
NewChosenDice.pdx.rar
6 MB
if you pay 1.00€ EUR or more